Polyverse Gatekeeper
December 1, 2017
by Blayne Stone
Product Intelligence Report
Gatekeeper is a cutting edge volume modulator capable of creating squenced volume patterns, MIDI gates, stutter effects, pseudo sidechain effects, pan dynamics, creative gain clipping, and much much more. Capable of sample-fast transitions and equipped with a unique variable smoothing algorithm, Gatekeeper allows for drastic, punchy gating and sequencing while keeping the output smooth. Breathe new life into your audio with the most basic, yet impactful way: silence.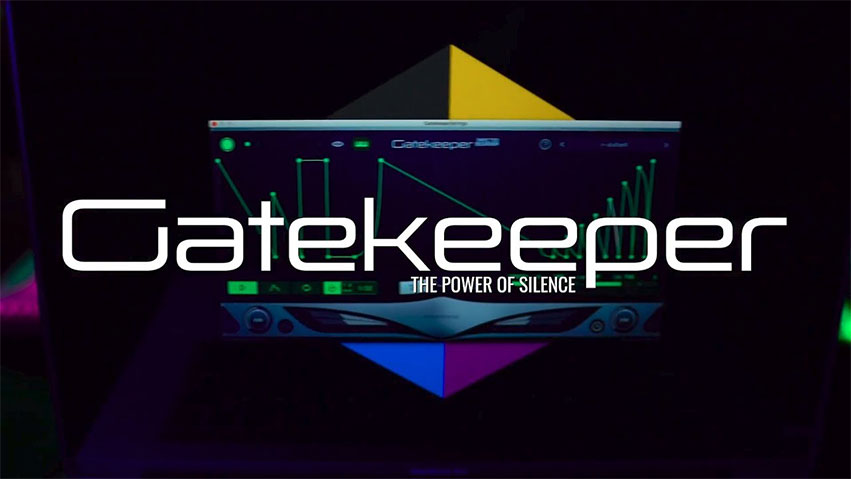 Getting into it
Gatekeeper can act as an LFO, envelope, step sequencer, sample-accurate volume automation and more. A fresh new way to add movement into your tracks. An intuitive interface and extensive preset library allows the user to easily load presets and edit them specific to the user's own creative needs. The ability to use up to 8 different envelopes allows the user to create unique rhythmic shapes, giving more personality to your track. One really useful function in Gatekeeper is the MIDI learn function. Different keys have the ability to trigger different shapes at specific times. For example, certain notes may just have an LFO or pseudo sidechain compression then another note may have a gate or a stutter effect. This gives way to a plethora of uniqe combinations, giving the user full creative control with their tracks.
Another thing Polyverse and Infected Mushroom really got right with Gatekeeper is the brush tool. The brush tool is versatile and easy to use. Curve brushes and an elaborate shortcut system makes drawing automation fun and easy, while 31 kinds of envelope brushes and 4 custom brush slots allow for exceedingly intricate designs. If you create a unique rhythmic movement on the grid, you are able to select the brush tool and paint that rhythmic movement throughout the grid and paint on to other envolpes. This is a real cool feature as it allows you to use the same rhythmic pattern on multiple instruments giving your track or song a more unique groove.
One really useful function in the Gatekeeper is the quantize function. A simple press of the hotkey "Q" snaps your modulation to the grid based off of the parameters you set. There is also the option to snap to grid using triplets, dotted notes, and a set amount of swing. Gatekeeper gives you the option to set parameters using the free form function, making the possibilities for rhythmic expression endless. The loop function is very useful while using MIDI to trigger your modulation as it allows you to create a sustain stage; however, the loop function will confine to the loop boundaries when auto-play is on.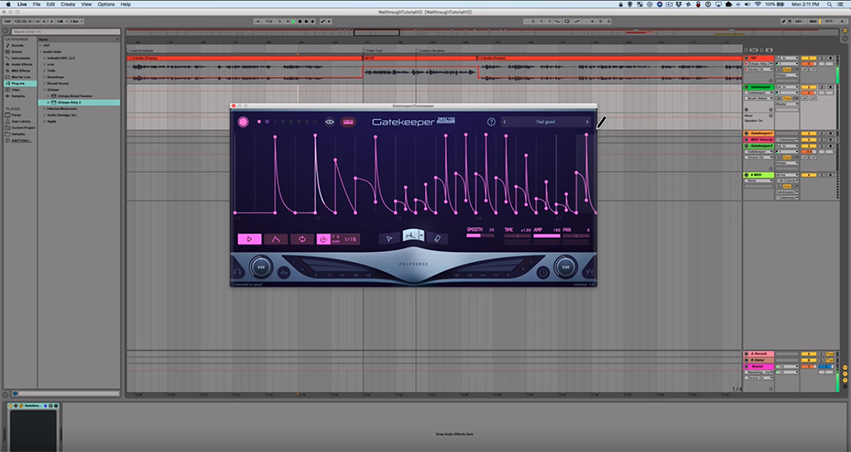 Gatekeeper Functionality
Gatekeeper is very easy to download and bring in to any digital audio work station as it supports VST, AU, AAX plug-in formats. The interface is user friendly and looks good. The controls and buttons are easy to understand and intuitive. Upon using it for the first time, I was able to jump in and start creating right away. Gatekeeper has the ability to take the place of a compressor. While some compressors tend to exaggerate hi hats; Gatekeeper allows the user with the ability to draw in an adjustment to keep the drums sounding more natural. Gatekeeper gives the user the ability to create awe-inspiring and fully customizable rhythmic expression, this is great for dialing in a specific groove or feel that you are going for. This allows your drums to become more unique and impressive to the listener. By utilizing reverb in conjunction with Gatekeeper on your drum pattern, you are able to create a really interesting and great sounding reverse snare effect.
Using Gatekeeper on bass tones really allows the user to boost their bass sounds in addition to adding more personlity to their bass lines and patterns. Wherever the overall signal of your track is louder, use Gatekeeper to reduce it. This makes Gatekeeper behave like an extremely accurate compressor. Utilizing the clip mode function will allow you to tame extreme volume spikes. Using the evolving triplet swing presets on your bass are extremely effective for hip hop and reggae production. The 'smooth' function of Gatekeeper is useful for getting rid of unwanted clicks and pops when your envelope is moving faster than the incoming audio. This works really well with bass sounds and enhances the bass by making it sound more smooth and full. The time function is extremely useful; it gives you the option to speed up or slow down your envelope. This helps as you can create an envelope that is in perfect time to you project.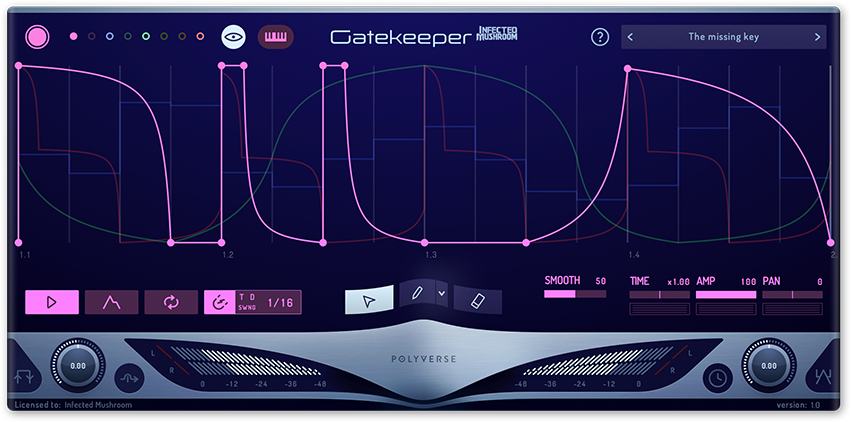 Key Features
$40.00 price point
Sample fast and precise volume modulation
Expressive and fun envelope drawing tools
Boost and clip features for extra punch
Smoothing algorithm to eliminate clicks and pops
8 independent volume envelopes
Fully customizable MIDI-triggering
CV output for Modular synths
Supports VST, AU, and AAX plug-in formats
Ability to create and save your own presets
Tempo mapped looping
Panning Tools
Hundreds of presets
Easy-to-use quantize function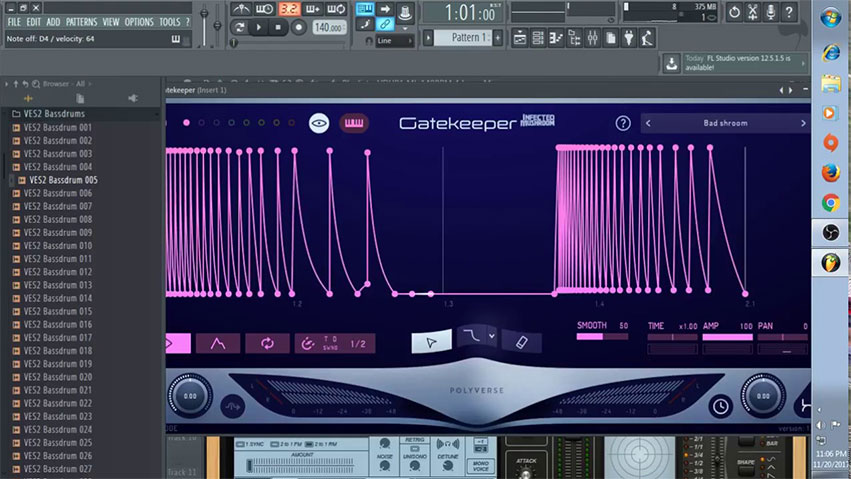 My favourite things about Gatekeeper
Firstly, the look of the interface. It looks great. Amazing colour scheme and very pleasing on the eyes. I consider visual aesthetics a big factor when choosing what DAW or plug-in I will be using or like to use. Afterall you are staring at a screen for hours on end; its nice to enjoy what your looking at.
I really enjoyed the brush tool. It was beyond easy to use. Anyone can just jump right in and start creating complex rhythmic patterns immediately. With 31 burshes and the option to create up to four custom brushes, the brush tools provides the user with an endless amount of creative options.
Gatekeeper is extremely inuitive, I can not stress that enough. Makes the workflow very easy and allows the user to just get all their ideas out upon first use. When creating music I generally use compressors, saturators, and side-chain techniques. When using several plug-ins on my drum tracks I found things would get muddy quite quickly, not to mention my CPU would sometimes give me a run for my money. Gatkeeper was able to destroy all those problems with providing me with punchy and natural sounding drums. Gatekeeper does not just stop at making drums sound great but it also take your bass lines, harmonies, and leads to the next level.
The hidden gem of Gatekeeper is the built-in delay. By adding delay to your envelope it can really make your track sound extremely full, rhythmic and interesting. The delay function works really well with drum tracks as well as lead tracks like a woodwind instrument. The only downside about the delay is that it is not specific to the envelop; it effects all enevlopes you are using for a specific instrument, sound, or loop. In a future update I would hope to see the delay act like how the time or pan function; only modulating the specific envelope you are on, allowing you to stack enevlopes, some with delay and some without.
Final Thoughts
My overall impression of Gatekeeper is that it is a very versatile unit that has endless possiblities for modulation. It is the perfect tool for anyone who is looking to add a rhythmic advantage to their setup. At a basic level you are able to take a simple drone note and turn it into something very unique and captivating to the ears. On a more complex level, you can customize up to 8 envelopes; allowing you to have complete control over the sound, instrument, or track you are working on. The interface is very user-friendy. It looks great, very easy to understand, and easy to manipulate your loop, sound, instrument to your every creative need. Before Gatekeeper I was stuck using three or four plugins to try and do what Gatekeeper is capable of. $40.00 is a very small price too pay for such a good unit.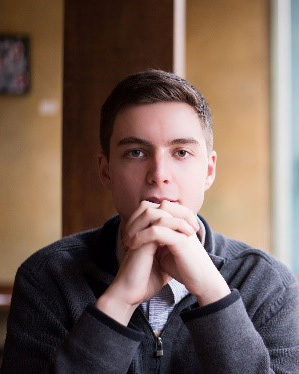 Blayne Stone
A musician/sound tech/producer residing in Toronto. Blayne Stone has over 4 years of experience in the music industry. Experience ranging from managing artists to working as a sound tech for live music events. Currently involved in 2 active musical projects, Blayne is consistently writing, recording, and releasing music to the public. Deeply involved in the underground music scene in Toronto, Blayne has had the pleasure to play along side some extremely talented musicians in legendary venues. Owner of Camino Jazz Club, an art collective in Toronto, Blayne continues to book shows, consult and collaborate with artists, and is constantly producing content.
For more information, please check out caminojazzclub.com.