PatchWork 2.11 Update
November 28, 2017
by Music Marketing
News
Blue Cat's PatchWork can now be used as a multi effects processor on its own. With its new 25 built-in audio effects borrowed from Blue Cat's Late Replies, you can do a lot of things with PatchWork, without relying on third party plug-ins: it now includes a gate, compressor, ducker, delays, modulation effects, pitch and frequency shifters, panner, EQ, waveshaper, bit cruasher, mid/side encoder and decoder.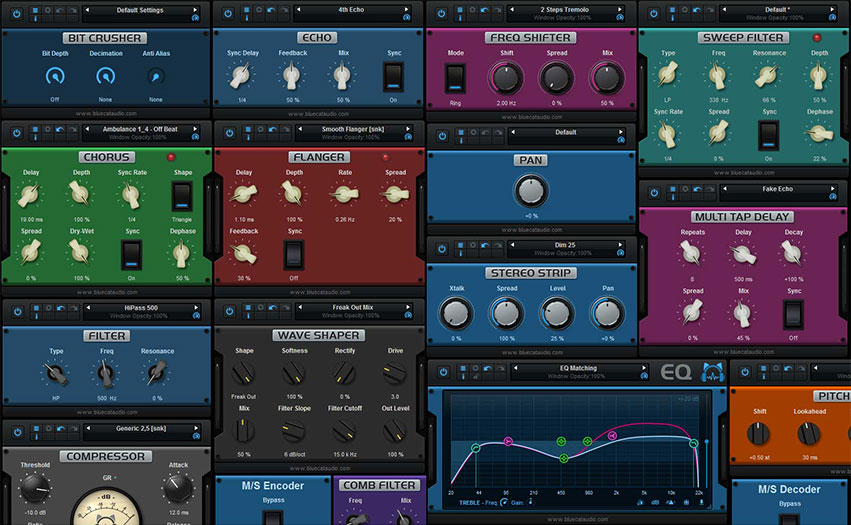 About
Patchwork is a virtual patch bay used to create parallel effects or instrument chains that can be played either alone or blended together. You can use Patchwork to create up to eight parallel effects chains, containing up to eight plugins each. Audition different plug-in chains on the same instrument with the click of a button. Despite the name, you can forget about wires or cables: configuring plug-ins routing is as simple as adding or removing a row or a column in the rack's matrix. All plug-ins can also communicate with each other or with the host application using the virtual MIDI ports offered by the plug-in. For each plug-in slot, latency compensation, presets management, undo/redo integration, audio in/out selection and individual plug-in bypass are included for optimal operation. The plug-in also stores the position of the window for each plug-in so that the layout is restored with your session or saved with presets.
Key Features
At a fair price point, PatchWork is very light on the pocket book.
25 built-in effects | 95 presets
Makes plug-in chains portable. Harmonizes effects chains between platforms and DAWs.
Load synth stacks to store favorite sounds. Save favorite synth combinations for later use.
Standalone mode. Use to process signal or play virtual instruments.
Very light on CPU. Limited only by the CPU load generated by plugin
Load VST/AU Into Pro Tools & Logic; runs as AAX plug-in Pro Tools [AU in Logic]. Load VST's into Patchwork.
Save your customized channel strips and share them across multiple DAWs.
Open any plug in VST format on any DAW regardless of what plug in format it normally supports
Recall complex processing setups and plug-ins layouts with one click.
Configurable VST, VST3, AAX or audio Unit plug-ins rack: Host up to 64 third party plug-ins
Parallel Processing: up to 8 "pre" and "post" slots to chain plug-ins in series
Host up to 8 virtual instruments in parallel and mix them within Patchwork
Who Needs it?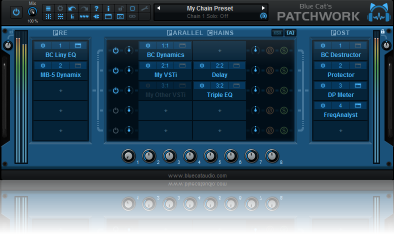 Pro Tools & Logic Users
Mixing & Mastering Engineers
Broadcasters [Radio & TV]
Music Producers
Guitar and Keyboard Players
Sound Designers
Why you need PatchWork
The reason this product exist is, it's a way to bring plugins from one format to another. When Avid decided to upgrade Pro Tools to Pro Tools 10, they created a new plugin standard call 'AAX' but then they stopped supporting the old existing format 'VST,' this forced all the plugin manufactures to upgrade to the new 'AAX' format. Many did; however, some of manufacturers did not. If you are a studio owner or producer and you have been using a certain plugin for years, you love it and use it every day, and your manufacturer didn't upgrade to the new format, what do you do? You can now upgrade your Pro Tools with ease of mind that you can keep on using the products you love and are a part of your workflow.
Patchwork is a shell in which you can load other plug ins. Patchwork is an 'AAX' plugin; however, inside the plugin you can load a 'VST' plugin. The first version was all about plugins; but some people do not have a lot of plugins. The cool thing about Patchwork 2.11, is Patchwork has built-in 25 audio effects plugins. Another advantage of having this product is when a team of people are using different DAW's. Imagine you're using Fruity Loops, your friend is using Studio One, another using Ableton, another using Pro Tools and you have a beautiful channel strip (a series of effects in a certain order, in a certain setting) that you love. You want your friend to work on the same song with your same patch of effects. You save your channel strip as a patch in Patchwork. If he has Patchwork, he can load it up, and now has access to your same patch. He has your same beloved channel strip.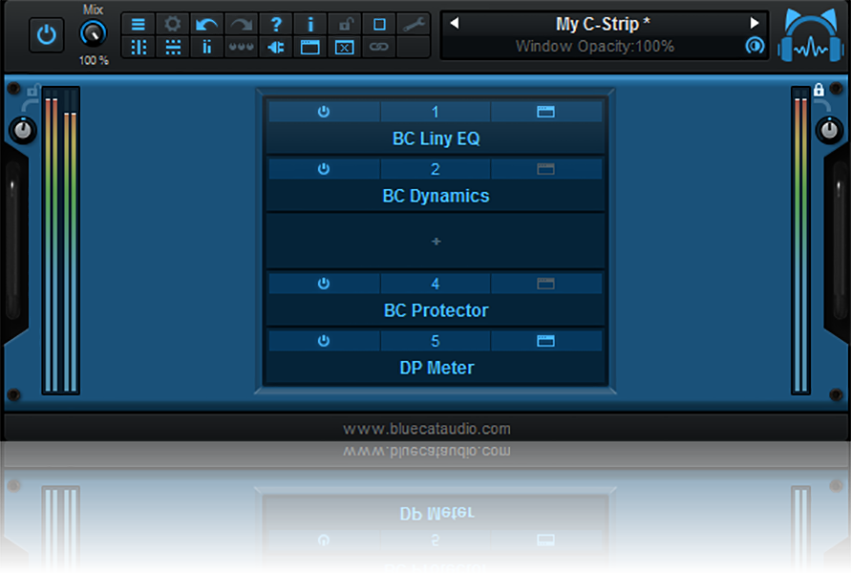 Another instance where Patchwork creates an ease to creation is, you work very hard on a song a get a certain series of plugins and patches. You go to the next song and you try to re-create it again; it will never be exactly the same. Load it in to Patchwork, save it as a patch. Load patchwork in your new project and open your patch that you worked so hard on. Now you are able to use it time and time again. Patchwork can also be used as a keyboard device. You can play a number of synths stacked together by running MIDI, enabling you create big sounding synths which you can save and use again at any time. Why is Patchwork so great? For all those people waiting to upgrade their DAWs they can finally upgrade. It is a way to move your complicated sounds around not only between projects and DAWs, but also, platforms. For a fair price point you can not go wrong with this product.