Acoustica Premium Edition 7
October 7, 2021.
by Steve Castellano
Product Intelligence Report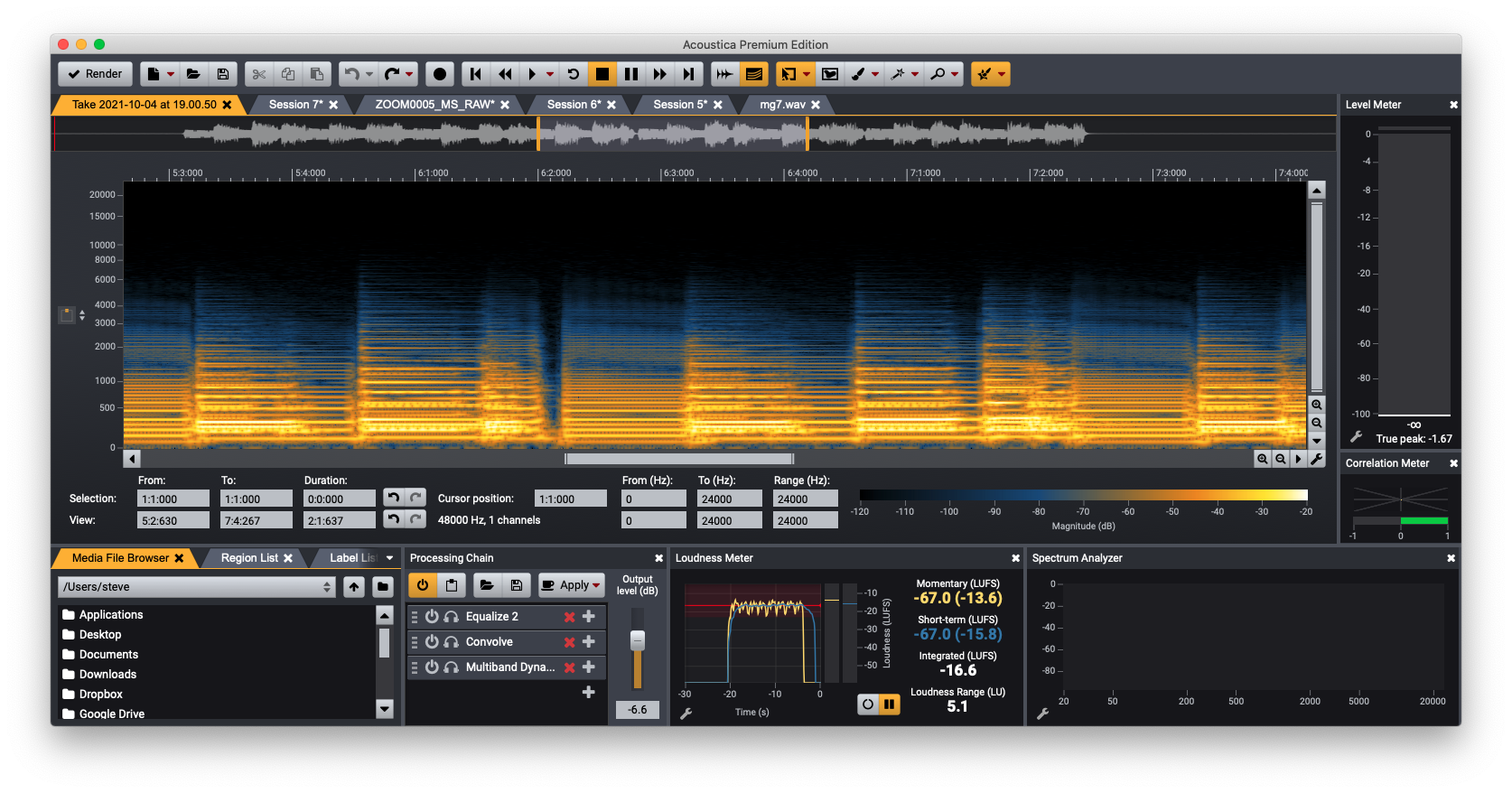 A dedicated audio editing application can be an indispensable part of your creative workflow. We may spend most of our music production time in a DAW, but there are plenty of tasks that a leaner, more specialized tool is better suited to. Acoustica fills this niche handily, offering a range of useful features for everything from sample editing to mastering in a tidy package that never feels over-designed or bloated.
Acoustica's interface is inviting and engaging to use. In the default layout the main waveform viewer takes center stage, with standard editing and transport buttons above, and various browsers, processors, and analyzers arranged along the bottom and right-hand edges. Each of these windows can be resized or rearranged by clicking and dragging, and layouts can be saved and reloaded as well. If you're working with multiple files or sessions, they appear as tabs above the main view area for quick access. You also have the option of saving an entire workspace, including all open files and layout, in addition to individual files.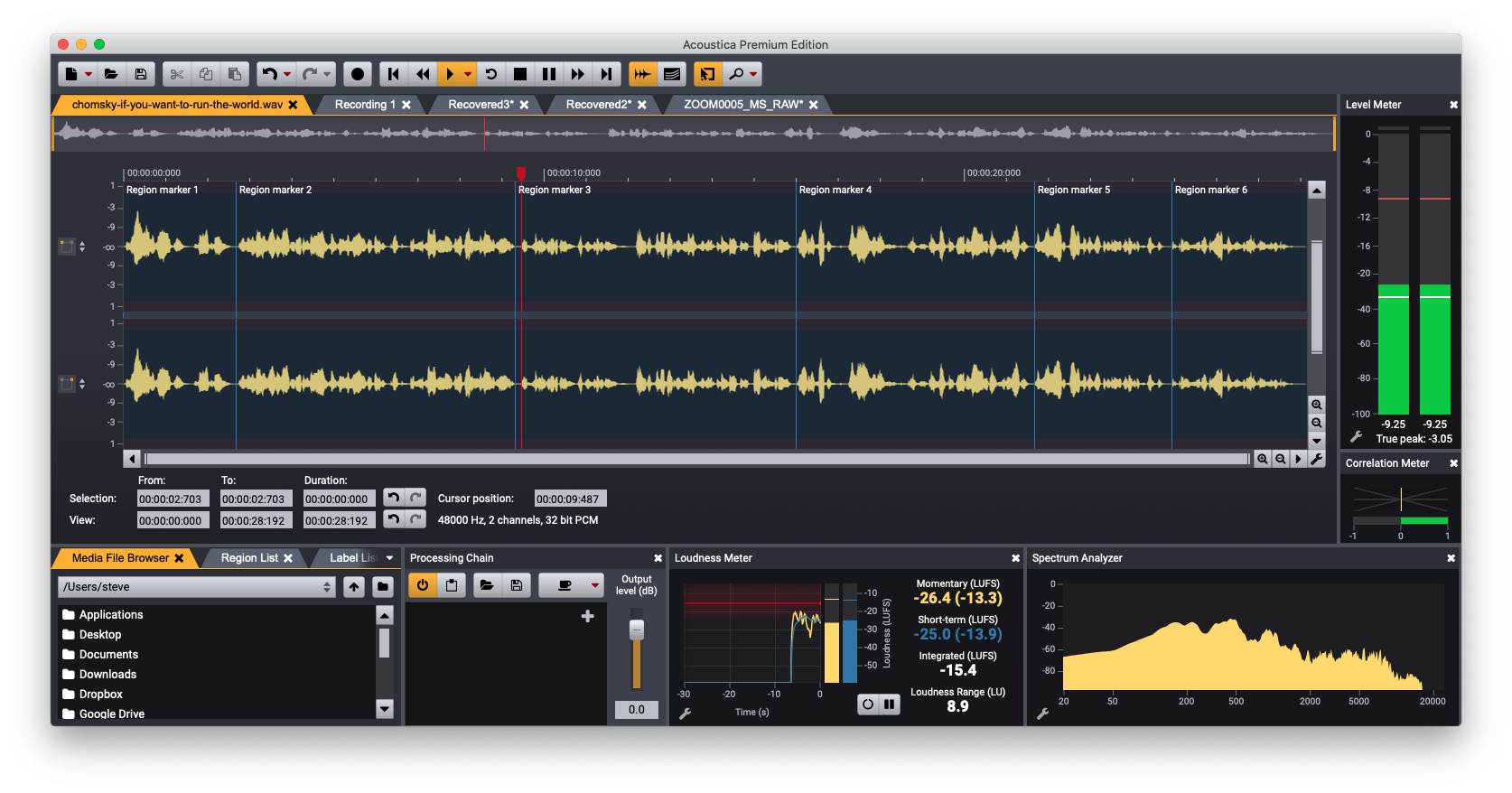 Off to see the wizard
I hadn't been working with Acoustica for very long before I realized there were unfinished tasks on my hard drive that I'd been avoiding because the audio editor I typically use makes some jobs feel like a bit of a chore. I'd purchased a digital download in FLAC format, for example, and hadn't gotten around to converting those tracks into AAC format. Without even spending much time with the manual, I typed "batch" into the search box in the help menu and found the Batch Processing Wizard. Setting the source, destination, and file format was a breeze, and I ended up spending more time deciding where to put my files than Acoustica spent converting them.
Everyone has their own use cases for an audio editor, and Acoustica does an admirable job of covering all the bases. It supports up to 32-bit resolution and sample rates up to 384 kHz, 7.1 channel surround, multitrack editing, and the standard cohort of formats, including WAV, WAV64, AIFF, MP4/AAC, MP3, OGG, FLAC, and WMA. As someone who attempts to archive and hang onto every recording I've ever made, I miss seeing an SDII option – but I acknowledge my minority status in this regard.
Helpful options for basic functions
For even the most basic audio editing functions, Acoustica offers a little bit of extra control. When normalizing audio files, I'm used to seeing a maximum level option and little else. Acoustica gives you five different level measurement methods to choose from, including the "sample peak" that I'd always used, two RMS measurement options, and one based on ITU-R BS.1770 (EBU R-128) recommendations. For adding fade-ins and fade-outs, I was happy to see not only a sinusoidal curve but a total of six linear and non-linear fade functions in the menu. Acoustica gives you the option to save your own presets for even these fairly straightforward tasks, so it's easy to keep your results consistent.

The attention to loudness standards is an important detail, as anyone who is preparing audio for streaming services knows well. A dedicated loudness meter, distinct from the output level meter, lets you monitor momentary, short-term, and integrated loudness in real-time. Based on the selectable target loudness range (in LUFS) this meter will also show you when you're in the red. You can also view loudness statistics for a selection (or an entire file) by viewing Show Statistics under the Analysis menu.
Vinyl repair made easy
If, like me, you have a precious vinyl collection that you occasionally have the need to digitize, Acoustica offers a number of helpful tools. The Phono Filter allows you to apply an RIAA curve to a source recording, allowing you to record without an external phono preamp (you can also reverse the process if you're preparing a recording for vinyl mastering). Automatic Track Splitting detects and marks where tracks start and stop, which is handy if you're digitizing your collection for posterity.
The DeClick 2 processor is quite adept at removing the crackle and pop that vinyl enthusiasts know and dread. As a challenge, I dug out a vintage comedy disc from 1963 and had it sounding virtually pristine using nothing but the supplied presets. If you prefer a more manual approach, the Interpolate option lets you zoom in on individual scratches or pops and take them out one at a time.
Sample editing and looping
There are a number of hardware devices in my studio that I regularly need to export samples to, each with their own preferences as to file types, sampling rates and bitrates. Acoustica makes these occasionally mundane chores quick and easy with a number of time-saving features, including optional Automatic Splice De-Click and the ability to select and drag existing selection borders. A sampler loop helper offers two crossfade processing options – constant amplitude and constant power – and the ability to preview your crossfades before committing.
New dialogue enhancement tools
Acoustica Premium Edition 7.3 offers a number of new enhancement tools that should be of interest to podcasters, broadcasters and sound recordists. Using algorithms based on deep learning – essentially training an AI engine to recognize what voice material sounds like – these easy-to-use tools allow you to separate various types of noise from dialogue recordings. In an attempt to create the worst dialogue (monologue, actually) recording possible, I took an iPhone with a third-party microphone onto the sidewalk in the rain, near a school that had just let out.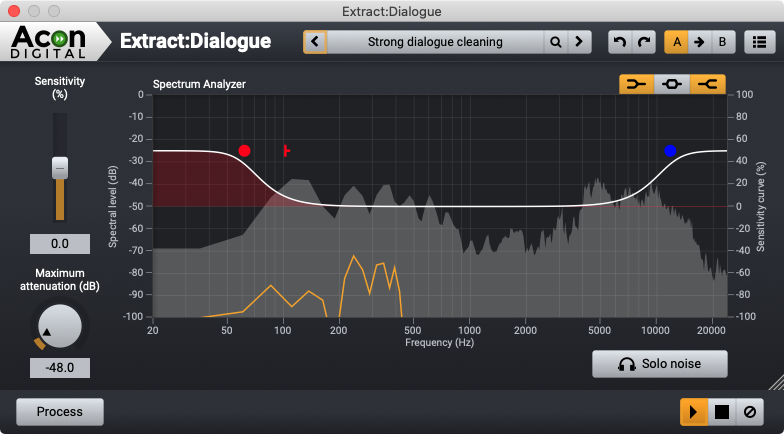 I found the DeWind:Dialogue tool quite effective at removing the ambient hiss of rainfall and car tires on the wet road, and a second pass with Extract:Dialogue took care of most of the rest of the unwanted noise solely using the supplied presets. I returned to the DeClick and Interpolate tools to see what could be done about individual raindrops hitting my umbrella – these tools did help reduce their prominence, though they proved difficult to remove entirely. I can only say this is an extreme case and suggest that you avoid conducting interviews under these circumstances if possible
The dialogue enhancement tools, as well as the DeNoise tool found under the same menu, have a helpful "solo noise" feature if you want finer control of what is being filtered out. You can essentially invert the process and adjust the controls manually until you start hearing the sound you want to keep in the noise, then back off a little bit before hitting the "process" button.
Mixing, Mastering and Remixing
To cover off just about anything you might want to use an audio editor for, Acoustica supports multitrack sessions and plugin support for VST, VST and Audio Units (on Mac). Its own effects, in addition to the repair and enhancement tools mentioned above, also include dynamics, Multiband Dynamics (compression), Limit, and parametric EQ – to name a few – making it a full-featured mastering suite, even without added plugins. Acoustica Premium Edition also includes a collection of its own tools in VST, AAX and AU format for use in the host application of your choice. If you're a Pro Tools user, an AAX plugin lets you launch Acoustica as an external editor from within your Pro Tools session.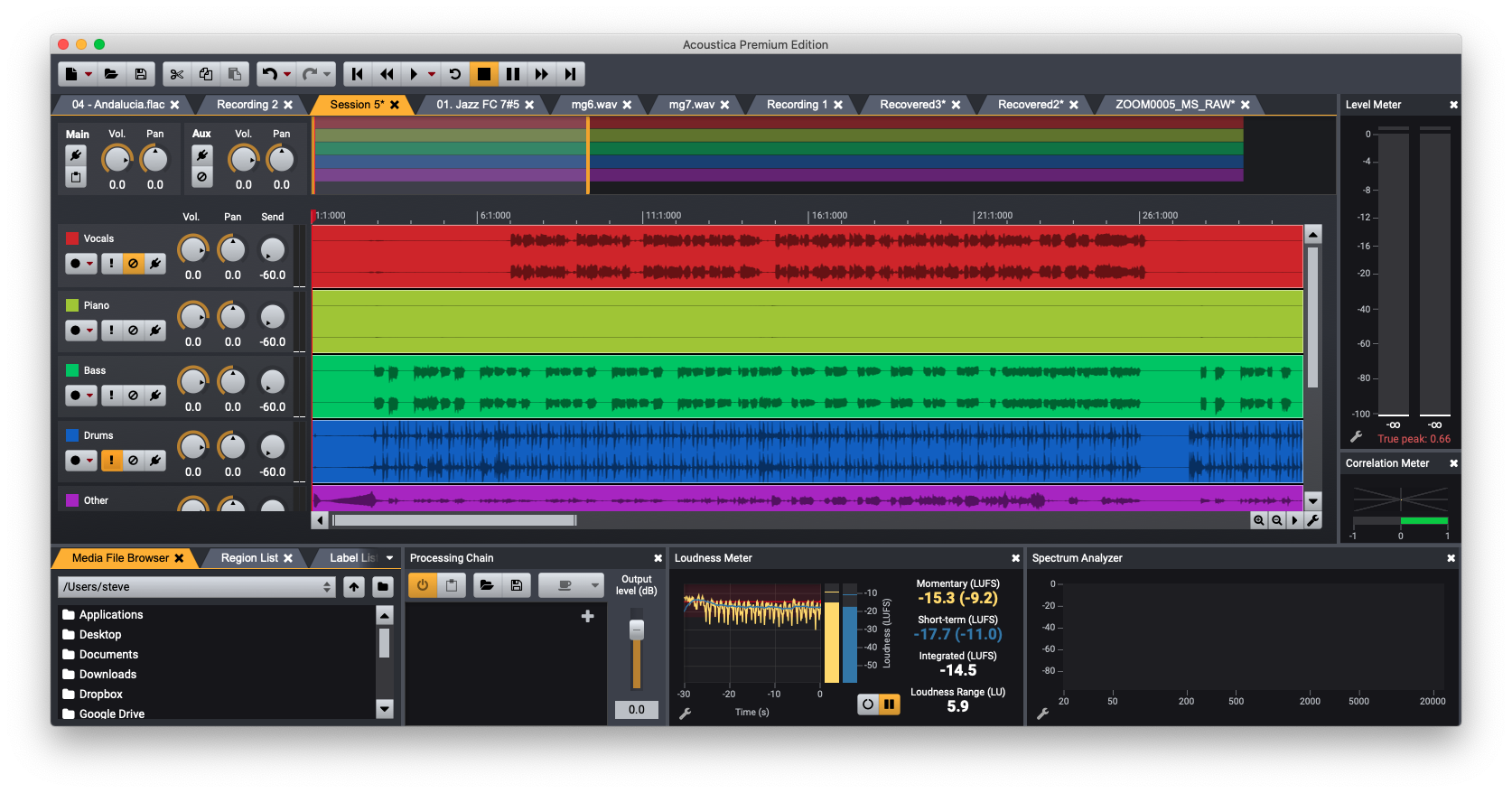 If remixing is the task at hand, Acoustica includes the aptly named Remix tool, which will automatically separate a stereo mix into individual stems. Results will depend on your source material, and while you'd always prefer to start with the original multitrack stems for a tune, Acoustica does an impressive job of separating out vocals, piano, bass and drums in particular when that's not possible. Beyond remixing, I can see this tool being handy for tasks like lifting parts and creating karaoke playlists.
Conclusions
What I liked: Acoustica does a great job of providing a wide range of occasionally esoteric functions within a clear and intuitive workspace. It definitely helped me get some mundane tasks done faster than usual and with consistent results. The AI-based enhancement and repair tools in particular are quite powerful and easy to use.
What I'd like to see: I like the concept of Pro Tools interoperability, but as I'm not a Pro Tools user myself, I think it would be great to see this extended to other DAWs. As for other improvements, there are a few windows like Preferences and the Automatic Track splitting dialogue that open up under open tool windows when invoked, which can make them hard to find.
Overall: I have to admit that lately I've been using a fairly bare-bones app for audio editing, and Acoustica has been a revelation for me. It's a virtual Swiss Army Knife for audio, and it's poised to replace more than one app in my current setup.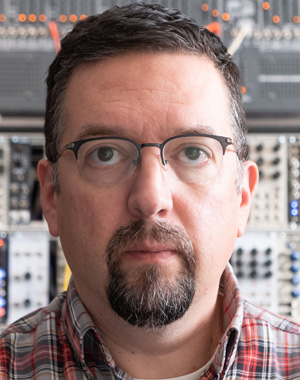 Steve Castellano
Steve Castellano is a musician and writer living in Toronto, Canada. He holds a music degree from York University, where his focus was electronic music and composition. He currently records and performs modular electronic music under the name Elettronica Sperimentale.