Acon Digital Acoustica 7.5 Review
November 10, 2023
by Dan Brashaw
Product Intelligence Report
Acoustica 7 from Acon Digital was first released five years ago. It was received well on release, garnering praise for its powerful audio editing and repair capabilities. Since its initial release, Acoustica 7 has seen several incremental upgrades, each adding new features and functionality. Most recently Acoustica has been updated to 7.5. Current users will be pleased to know that this is a free update, so you'll be getting all the new features at no extra charge.
Before I dive into what's new with Acoustica 7.5, let's first cover what Acoustica is, and what it can do.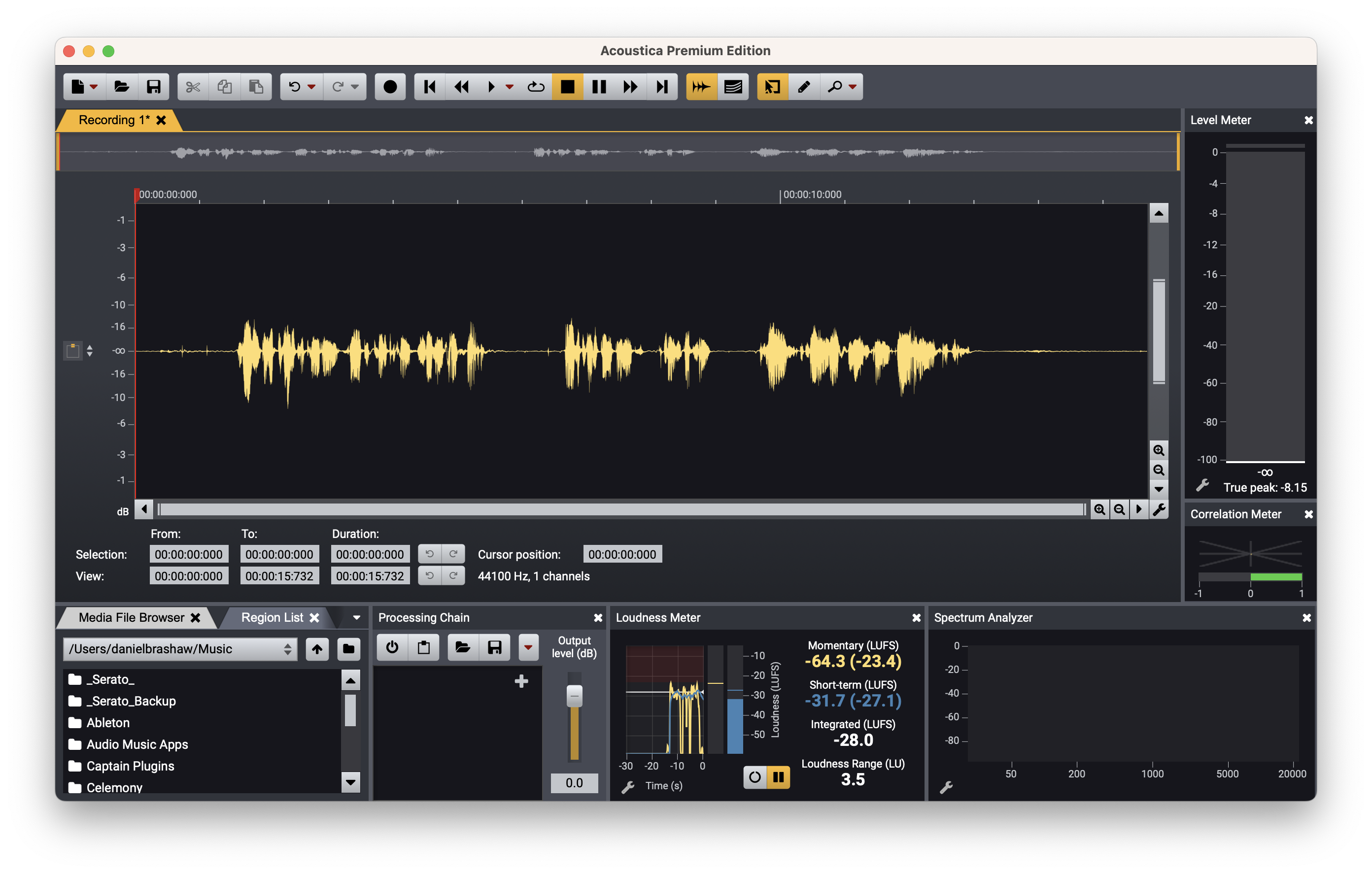 Acoustica is an all-in-one solution for audio editing, audio post-production, podcast editing, audio repair, audio restoration and mastering. A license comes with a standalone desktop application as well as AU, AAX, VST, and VST 3 plugin versions.
There are two versions of Acoustica available. Choose between standard and premium. As you'd expect, premium comes with more features and more powerful versions of some of Acoustica's audio manipulation tools. In this review, I will be working with Acoustica Premium.
For an in-depth look at Acoustica 7 in its entirety, be sure to check out Steve Castellano's excellent overview. In this piece, I will be focusing on the new features in Acoustica 7.5 which include automatic speech transcription, the addition of an edit history pane, a new DeEss:Dialogue plugin and a handful of other minor additions.
Speech transcription
The biggest upgrade between Acoustica 7.4 and 7.5 is the introduction of automatic speech transcription. For modern content creators and podcasters, this will be a much-appreciated upgrade.
These days, almost all short-form video content made for Instagram, TikTok, and YouTube is captioned. Even podcasters – who would traditionally be considered to be working in audio – are uploading clips from their episodes with captions to social platforms.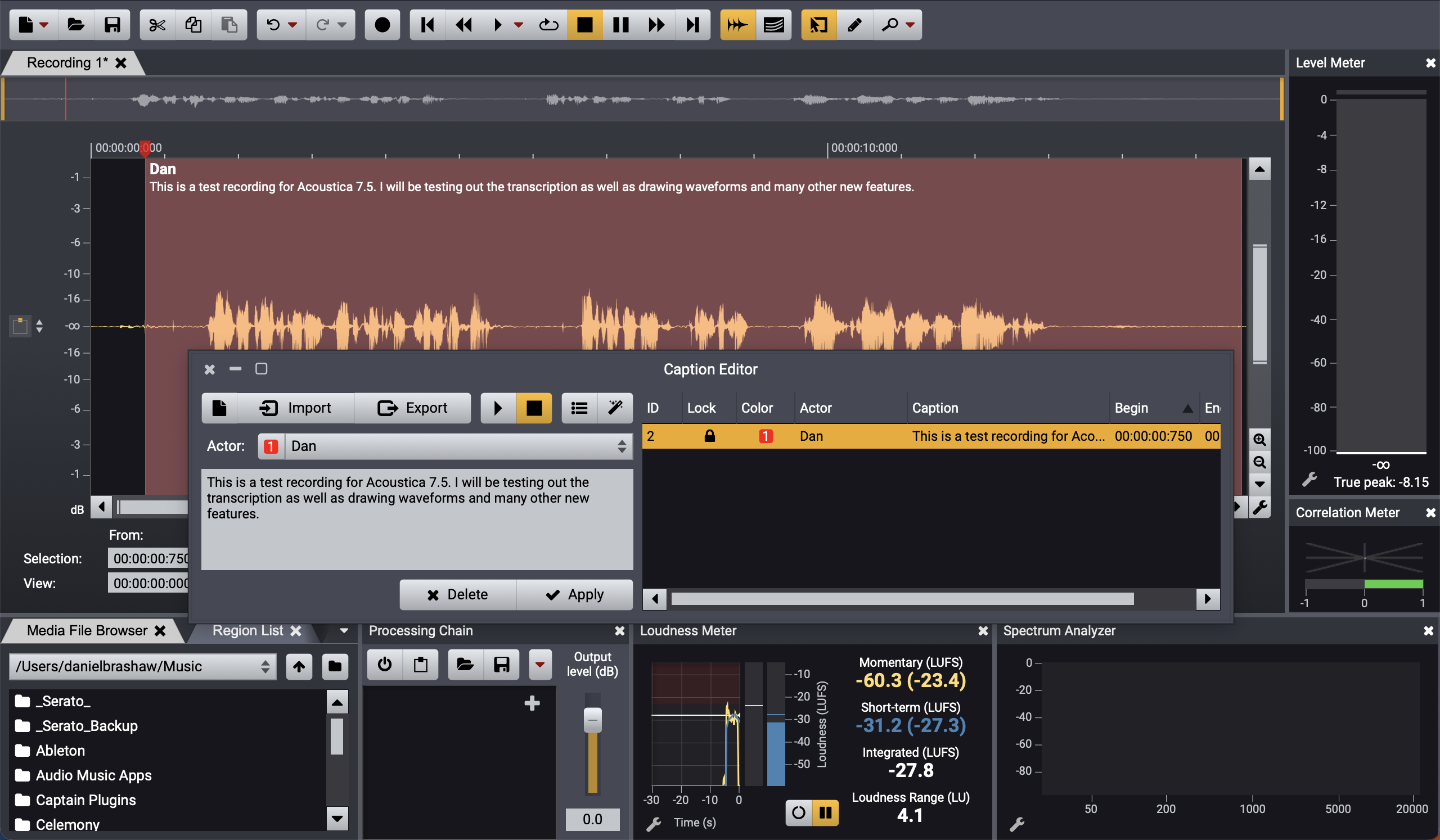 Automatic transcription tools have existed for a little while, but having caption generation in your audio editor of choice is a big boon.
I put the transcription in Acoustica 7.5 to the test with a short voice recording.
Auto generating captions is quick and easy. Simply highlight the section of audio you wish to transcribe, and click the auto generate captions button. In my test Acoustica 7.5 got the transcription 100% correct, even placing a full stop at the correct position between sentences.
Within the caption editor, multiple "Actors" or voices can be added, captions manually edited or added, and imported or exported. Captions can be exported in various formats to be loaded and used in your video editor of choice.
New DeEss:Dialogue plugin
Acon Digital Acoustica comes with a range of audio restoration tools including a strong selection of dialogue repair tools. Previous versions of Acoustica included DeWind:Dialogue, DeRustle:Dialogue, DeBuzz:Dialogue, DePlosive:Dialogue, and DeClick:Dialogue.
With Acoustica 7.5 Acon Digital has introduced DeEss:Dialogue. DeEss:Dialogue works as a comprehensive deesser with control over the frequency region where processing is applied.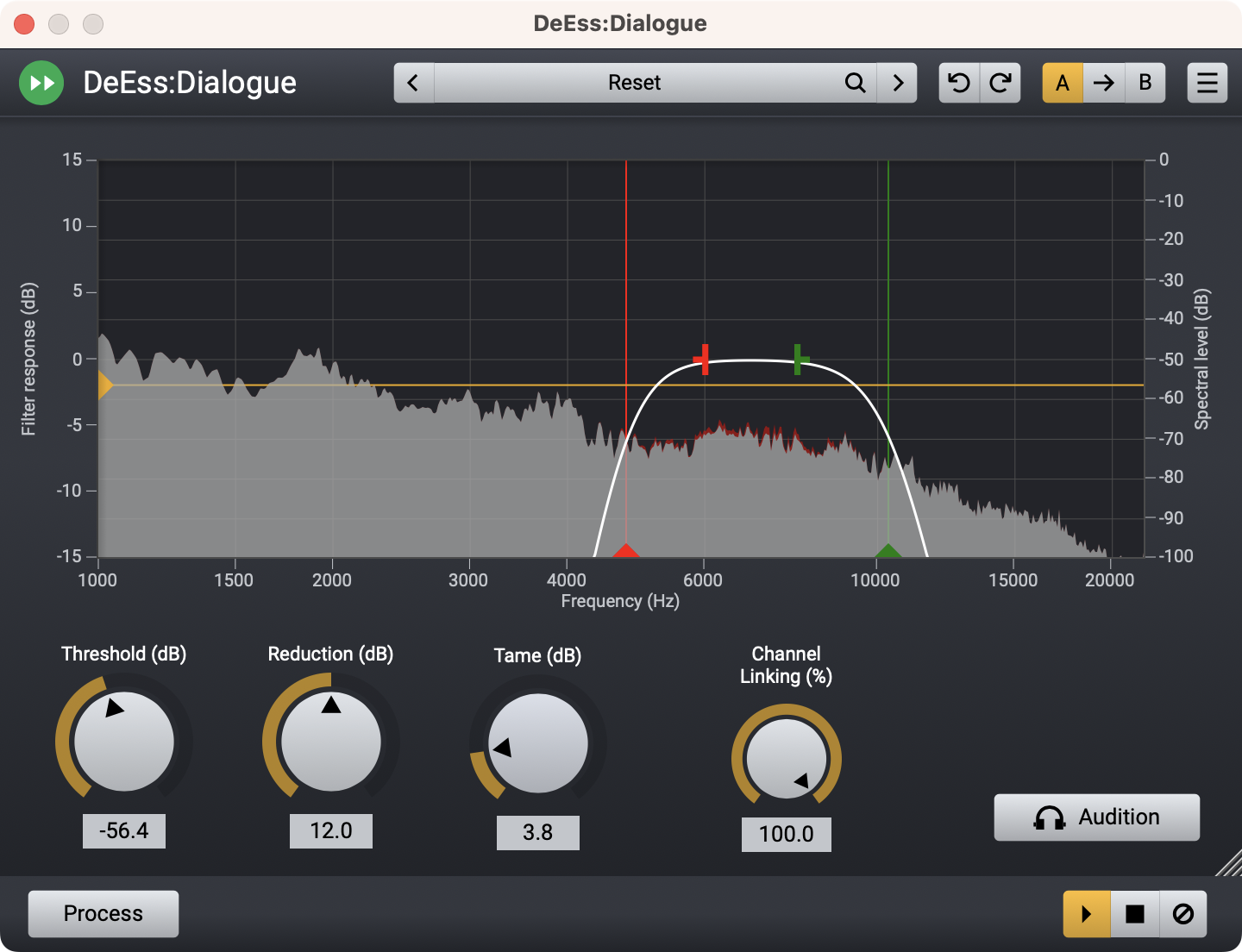 Setting the frequency range is done with an intuitive EQ style interface with two slope adjustable "bands". DeEss:Dialogue has classic threshold and reduction parameters. It also has a handy tame control which can reduce resonant frequencies in your audio.
If you're working with stereo audio, you can also set whether the two channels are processed separately or together with the Channel Linking dial.
DeEss:Dialogue is a good addition to the Acoustica dialogue repair lineup. It's not reinventing the wheel, but it's good to have in an audio editing suite such as Acoustica.
Draw waveforms for easy audio repair
With Acoustica 7.5 Acon Digital have introduced the ability to edit waveforms by drawing. This is a nifty way of removing glitches and short, unwanted portions of a recording.
I tested it on some mouth noise that occurred in the audio recording I previously tested Acoustica's transcription on. The image below shows a slight variation in the waveform where this occurs.

The draw tool is selected simply by clicking the pencil icon in the toolbar. Waveforms can only be edited with the draw tool once you have zoomed into your waveform very tightly.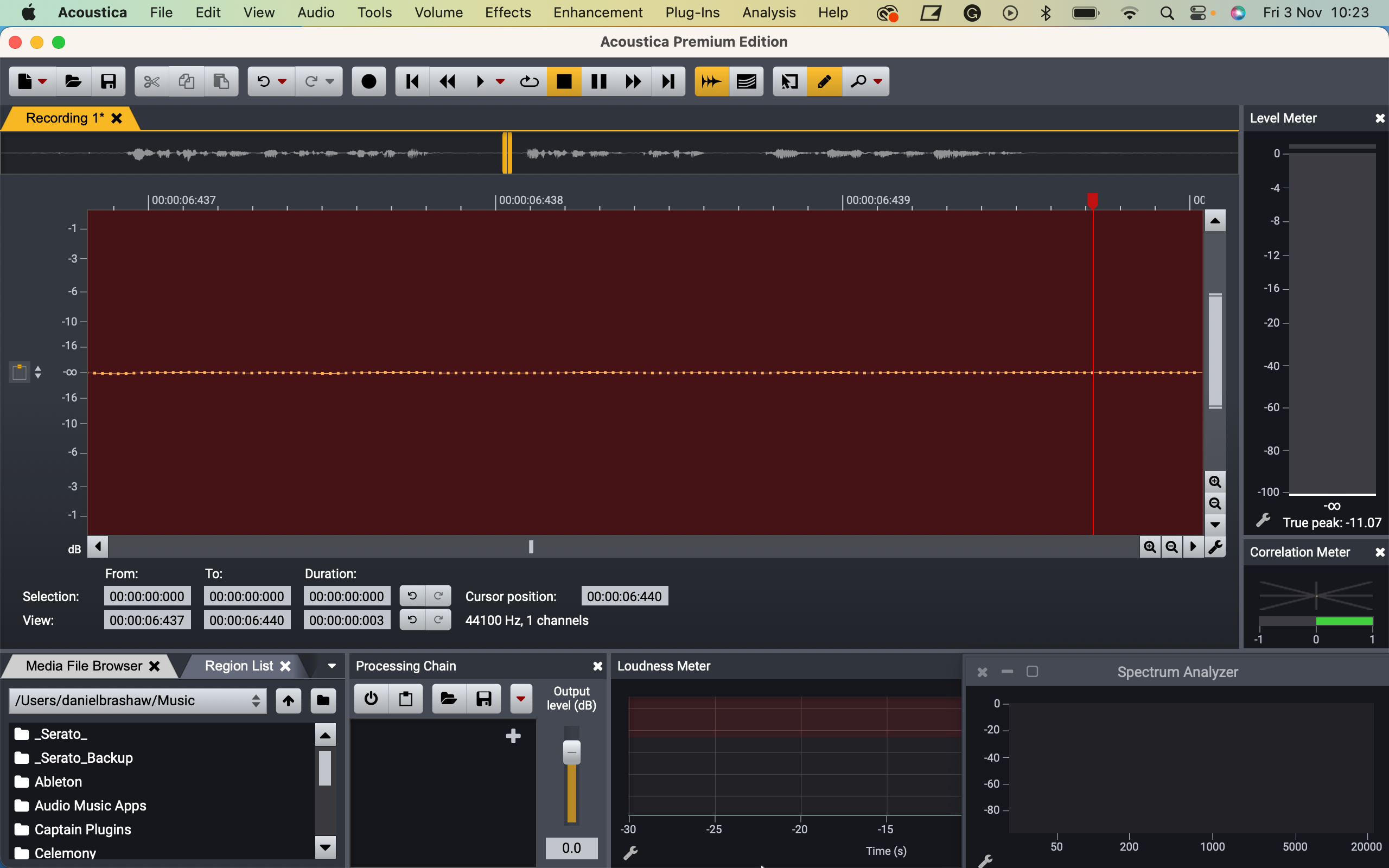 In a few seconds, I had managed to remove the mouth noise from the recording. Drawing a smooth line with the pencil tool was a little tricky – perhaps a line tool would be useful – but after a few attempts, I had the job done.
This won't be a tool that one uses for editing large swathes of audio, but for dialling in on small unwanted elements of a recording it's a quick and intuitive way to work – a welcome addition!
Edit history pane and audit trail export
As users work in Acoustica 7.5, the program is constantly keeping a log of every action taken. This log can be viewed by opening the Edit History panel.
From here users can immediately jump back in time to any point in the session. The newfound ease with which users can return to previous project states encourages experimentation. If you are attempting a bit of audio repair that isn't guaranteed to work out well. This means there is no need to save multiple versions of a project to ensure you don't lose old versions.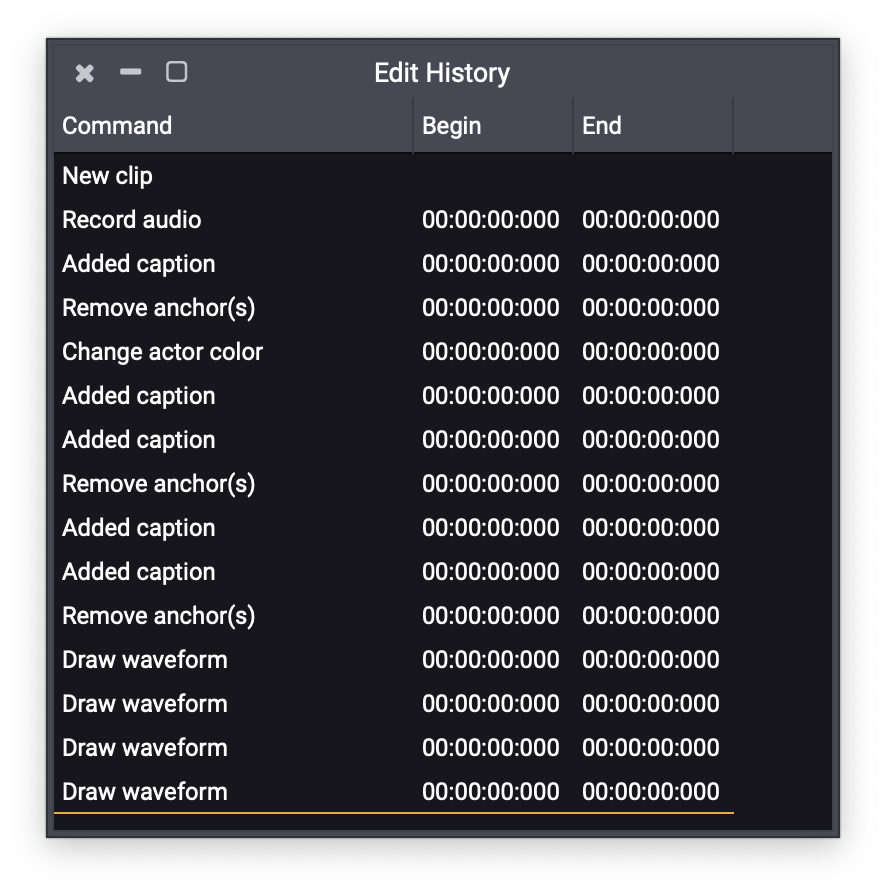 Another advantage of this Edit History is it can be exported as an audit trail. Audit trails are exported as HTML files and give a log of all settings and selection states. This can be useful for sharing work done with collaborators.
Other extras
The features highlighted in this review are just some of the new additions in Acoustica 7.5. An upgrade also gets you access to Acoustica's new real-time stem separator Remix, the ability to save and load keyboard shortcuts, and tab to transients in the clip editor. In addition Extract:Dialogue has been updated to version 1.5 and Acoustica now has Broadcast Wave metadata support.
In conclusion
Acoustica 7.5 is a worthy update. The automatic caption generation worked flawlessly in my testing and is a highly useful addition for content creators and podcasters who, one would assume, make up a large proportion of Acoustica's user base.
The Edit Pane is invaluable and makes returning to previous states effortless. Those working in teams will also appreciate the audit trail export option.
It's great to have the addition of DeEss:Dialogue, although one does wonder why an audio editing suite didn't have a de-esser up until this point. That said, it's there now so I'm not complaining!
Latest Music Software Reviews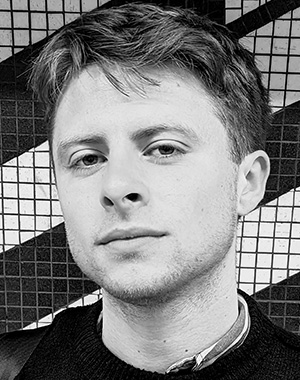 Dan Brashaw
Dan Brashaw is a producer and writer based in Bristol, UK. He releases dance music under the moniker Skeleton King, and his music has been released on Lobster Theremin, Fantastic Voyage and Breaks 'N' Pieces. His writing has been published in DJ Mag, Electronic Musician, and via a multitude of online outlets.