D16 Lush 2 Review
July 7, 2023
by Dan Brashaw
Product Intelligence Report
Released back in 2012, D16 Group's LusH-101 received almost universal acclaim from audio professionals for its great sound, presets and seemingly infinite layers. Now, in 2023, the audio software veterans have released a sequel – Lush 2.
Lush 2 builds on the same core concepts of the LusH-101. It houses eight individual synthesis layers each with their own oscillators, filters, envelopes and more. It also features a comprehensive mixer and modulation matrix.
The sound of the synth is authentically analogue. D16 Group took inspiration from the Roland 101 when designing the original LusH-101, and the same can be said for Lush 2. With Lush 2, D16 Group have built an analogue inspired synthesizer whilst taking full advantage of the virtual instrument medium, expanding the capabilities of this synth beyond anything possible in the world of hardware – particularly at the price point of just $169.
That being said, there is some room for improvement. The interface does feel a little old fashioned, and there are a couple of minor improvements I'd like to see elsewhere. However, in terms of raw functionality in the world of analogue sound, you'd struggle to ask for more from Lush 2.
Let's take a deeper dive into Lush 2, its sound, and whether it's the right synthesizer for you.
Presets
Let's begin where so many of us start when we load up a new virtual instrument: the presets.
D16 Group has done an excellent job here. Lush 2 boasts over 1600 presets – the majority of which sound great.
The preset browser is intuitive and offers filtering by Keyboard Zones, Type, Part and Features. You can also favorite presets which you want to use in the future, and of course you can save your own presets – these homemade patches can be easily accessed via the User tab.
The factory presets make good use of the features available on Lush 2 with plenty of sequenced and arpeggiated patterns, and a lot of layering going on.
Having so many high quality presets available is a huge boon as, whilst the many layered interface of Lush 2 is very powerful it can take a while to build out a patch utilizing a few of these layers.
The Synth
The Main architecture of Lush 2 is split across three panels: Synth, Modulation Matrix and Mixer. There are eight synth layers which can be blended using the mixer panel, and each of the eight layers has its own Synth and Modulation Matrix page.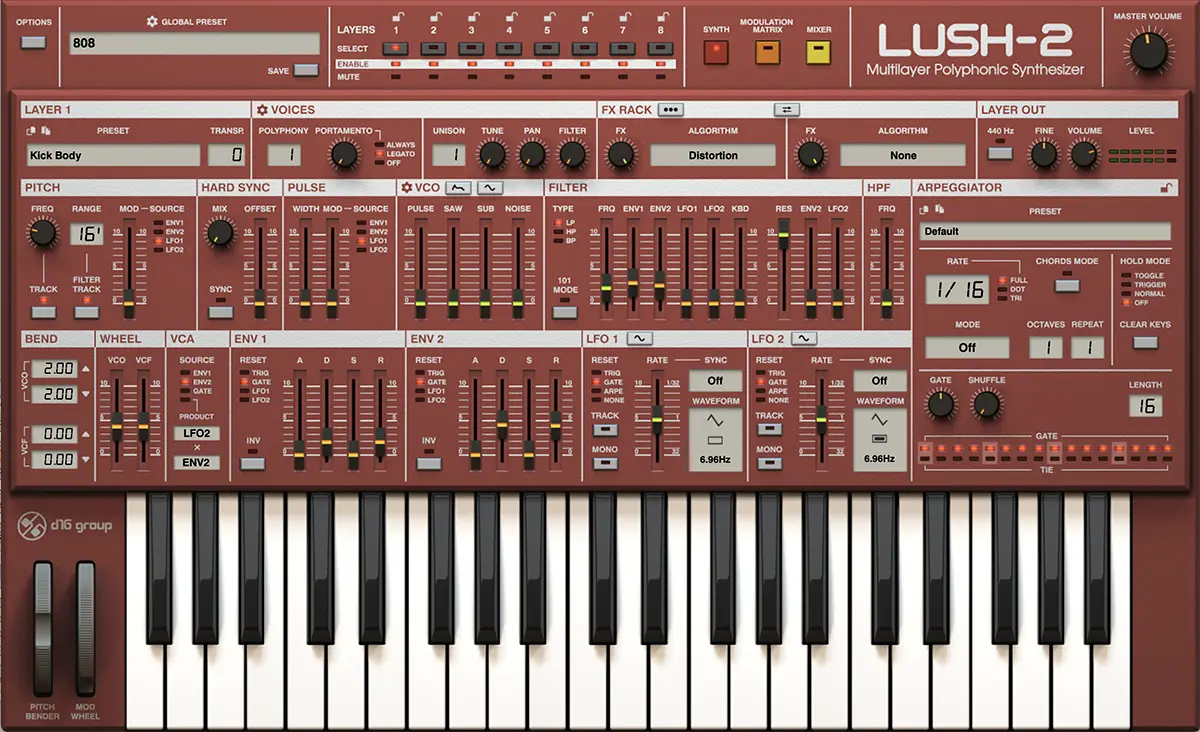 The Synth page is home to the VCO, filter, two envelopes and two LFOs belonging to each layer.
Each layer has a Pulse, Saw, Sub and Noise oscillator which can be blended together with the per wave type faders. It's a real nice touch that you're not limited to just one of two waveshapes per layer, however only having four waveshapes available does feel limiting.
You'll also find two effects slots on each layer – choose from nine effect types for each slot.
The number of voices, unison, arpeggiation, tuning and more can be defined from each layer page. There are even hundreds of layer presets for speedy patch building.
It would be nice if the design of the layer pages wasn't so true to the hardware which inspired it. Though the endless rows of sliders have a nice retro charm to them, there are more intuitive and prettier ways to lay out parameters. The sound of Lush 2 is still impeccable, it's just with the possibilities available to developers working with software, sticking to input methods that were found on hardware units 40 years ago is a little disappointing.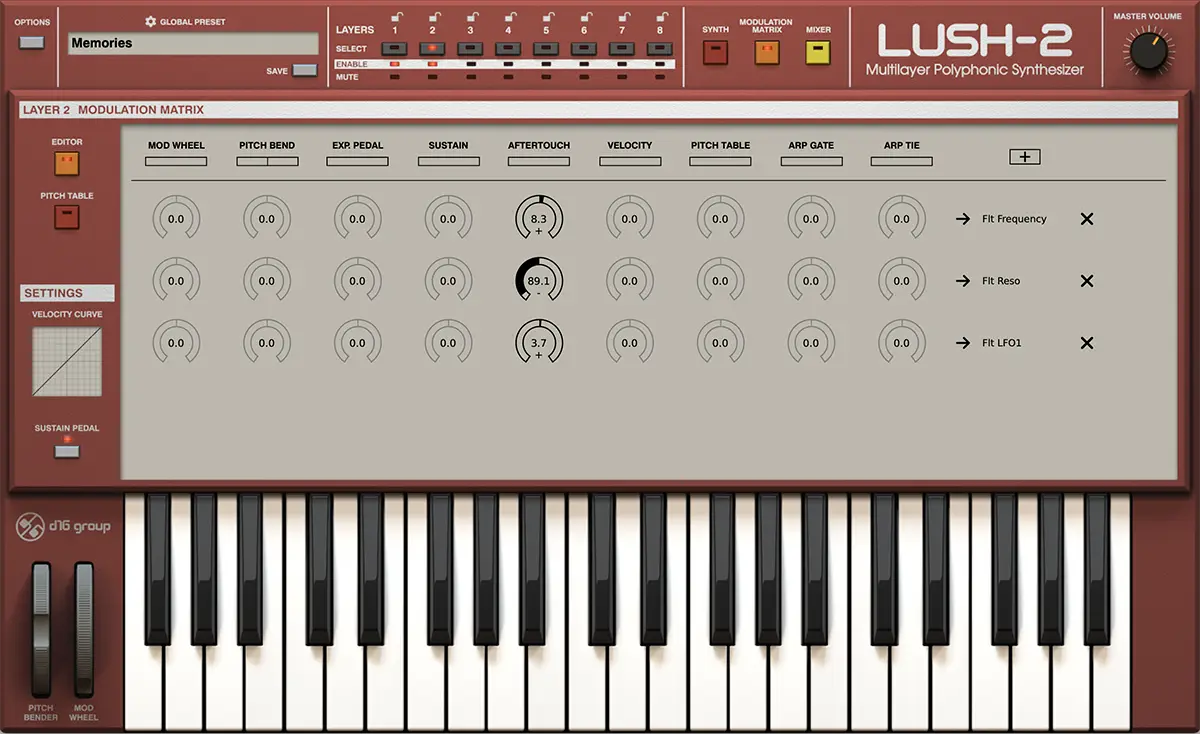 The Modulation Matrix is a standard mod matrix. It's powerful, and you can assign nine different modulators in Lush 2 to modulate almost any parameter on the layer.
That said, the mod matrix does feel a little archaic. Drag and drop modulation systems are far more intuitive and also nicer to look at. Once again, this doesn't detract from the functionality at all, it's more a quality of life improvement.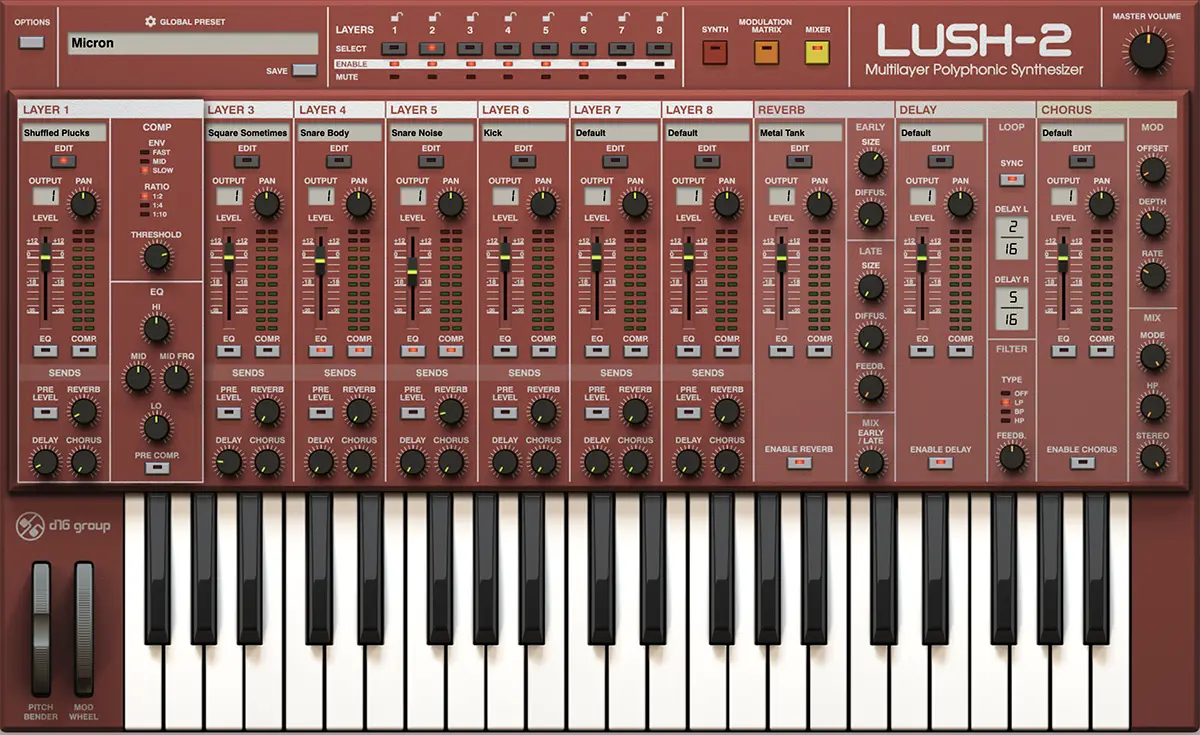 The Mixer panel on the other hand does pretty much everything I could ever need it to do. This is a full blown mixer with a track per layer – each track comes with a gain fader, a three band EQ, compression, panning and sends for delay, reverb and chorus. You can even assign separate outputs for all channels including the effects sends.
The layout is neat and tidy with the compression and EQ controls popping out when required. This is an upgrade from the original LusH-101 which crammed all compression and EQ parameter dials onto the channel strip.
The per channel EQ consists of high and low shelves and a frequency adjustable mid band – it would be nice if you could swap the high and low shelves for high and low pass filters, but this is a minor complaint.
Conclusion
D16 Group's Lush 2 is a super powerful, analogy sounding soft synth. Its layering and mixing capabilities make it a sound design dream and the incredibly extensive factory preset bank is a blessing for those who aren't looking to lose hours in a parameter tweaking hole. In terms of sound and functionality Lush 2 ticks all the boxes.
On the flip side the general workflow and user design is slightly old fashioned. This doesn't hold Lush 2 back functionality wise, but it does make it feel a little dated when put alongside other synths of the last 12 months.
Latest Music Software Reviews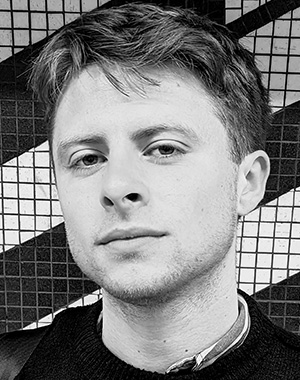 Dan Brashaw
Dan Brashaw is a producer and writer based in Bristol, UK. He releases dance music under the moniker Skeleton King, and his music has been released on Lobster Theremin, Fantastic Voyage and Breaks 'N' Pieces. His writing has been published in DJ Mag, Electronic Musician, and via a multitude of online outlets.