FabFilter Pro-R 2 Review
November 3, 2023
by Steve Castellano
Product Intelligence Report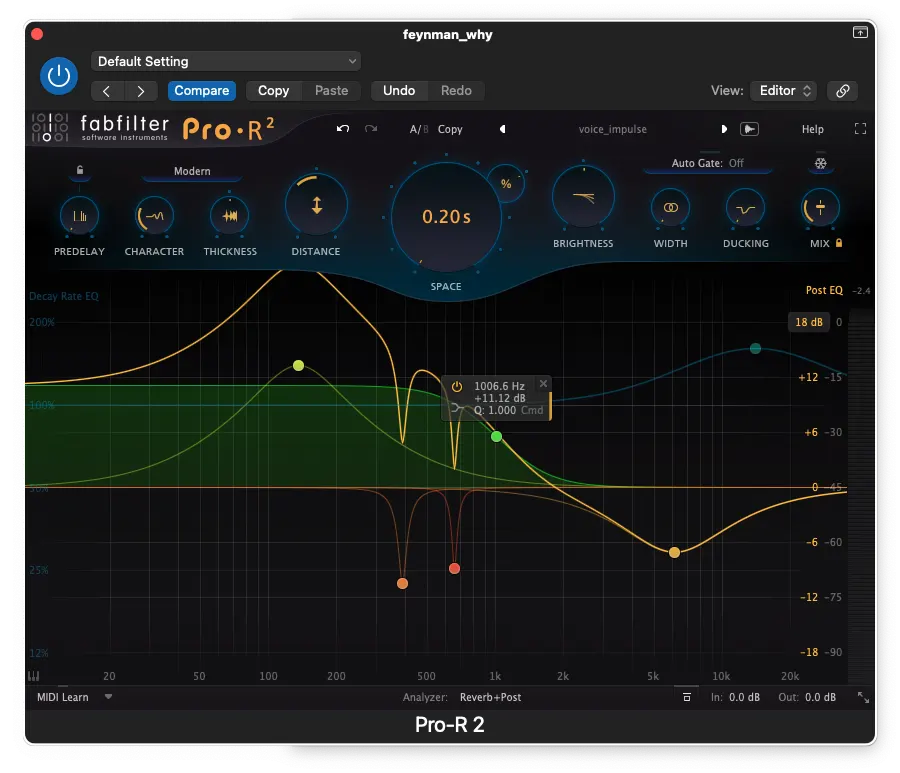 It's been a while since I first reviewed FabFilter Pro•R – it was new to me at the time, and I was thoroughly impressed with its great sound and super-intuitive user interface. It became a go-to plugin for me almost immediately, and I was hard pressed to come up with any improvements to suggest. In the intervening years however, the clever folks at FabFilter have come up with quite a few surprises and improvements in the form of FabFilter Pro•R 2, the latest version of their award-winning reverb plugin.
New Look, New Capabilities
For those of us who are fans of the almost tactile interface shared by many plugins in the FabFilter ecosystem, everything we love is still front and centre. Six bands of parametric EQ can be applied to sculpt the sound of the reverb (the Post EQ, shown in orange) and six additional bands control how the frequencies of the reverb decay in time. These are both overlaid on top of a real-time Analyzer, with selectable Pre and Post views, making it a breeze for even novice engineers and sound designers to tailor the perfect effect for their track in real time.
What's new is subtle at first, but keeps getting better with closer examination. The main control set has been expanded from 7 to 10 dials, with a new, easier to read colour scheme and legend. The Predelay control has moved up from the bottom of the pane to the leftmost position, creating a more linear and intuitive model of the signal path. The signature Character control remains, taking you from transparent when fully CCW to increasingly complex modulated reverbs.
What's Old is New
While Pro•R has been prized for its precise, extensive control set and creamy-smooth sound, Pro•R 2 introduces some new features to allow you to dial some chaos into the mix. The new Thickness control creates density and lushness through a combination subtle nonlinearities, saturation and compression, allowing you to add body to your reverb, or to go in the opposite direction and create a more austere feeling with negative density – the overall feeling to me is that of adding or removing additional reflective surfaces within a room.
Also new is the algorithm pulldown control which now lets you switch between Modern, Vintage and Plate modes. Modern is the traditional clean sound we've come to expect from Pro•R, while Vintage introduces a gritty warmth, and Plate takes us into the rich, slightly metallic world of plate reverbs. The characters of these settings are not subtle tweaks – they're quite distinct and even dramatic. So while the previous iteration of Pro•R didn't seek to emulate specific hardware units from the past, you can now use Pro•R 2 to tackle many of those classic textures.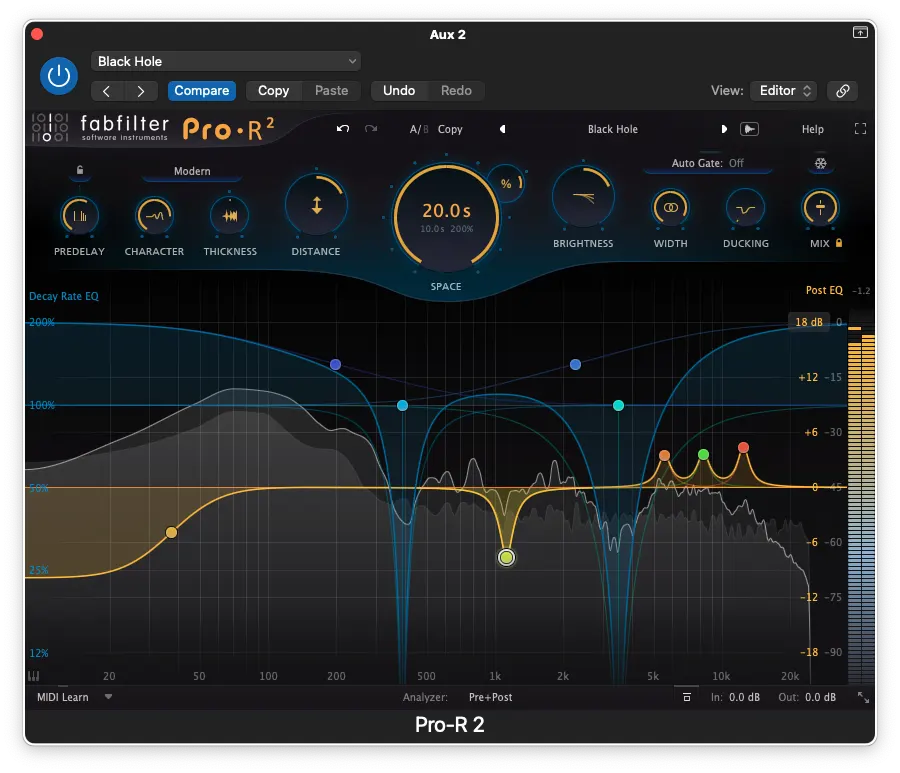 Creative Mixing Tools
On the right side of the control panel, the Decay Rate knob has been turned into a satellite of the central Space dial to make room for some very interesting production tools. Brightness now offers a quick way to introduce or cut high end reflections. Auto Gate lets you switch into that classic 80s drum effect from any starting point. With just a simple on-off switch and a dial for duration, this new feature is a lot of fun to play with, and I like it on punchy analogue synth sequences as much as I do on drums.
Ducking is a very handy new feature to help you keep your source material present in the mix even as you bring in lush, long tail reverb effects. At first I was looking for a sidechain input, but the ducking is actually activated by the primary source material. So you can add a dramatic reverb to a vocal track, for example, and then add a few dB of ducking to help ensure the effect doesn't overtake the main attraction.
Impulse Control
One of the new features I found most intriguing was the ability to import an impulse response file. I've worked with impulse responses in the past, and while the ability to capture a real-world space and replicate it in the studio is very exciting, there is a downside to them in that they are fundamentally samples, and as such are sometimes not as pliable as an algorithmic reverb. Pro-R2 now allows you to import transient response files in WAV or AIFF formats (that is to say, not sine sweep files) and create a new preset from it.
The resulting preset will of course be an algorithmic approximation, and may not be an exact clone of the original – but it will include Decay Rate and Post EQ curves, and can either be used as is or as a starting point for a new and unique reverb.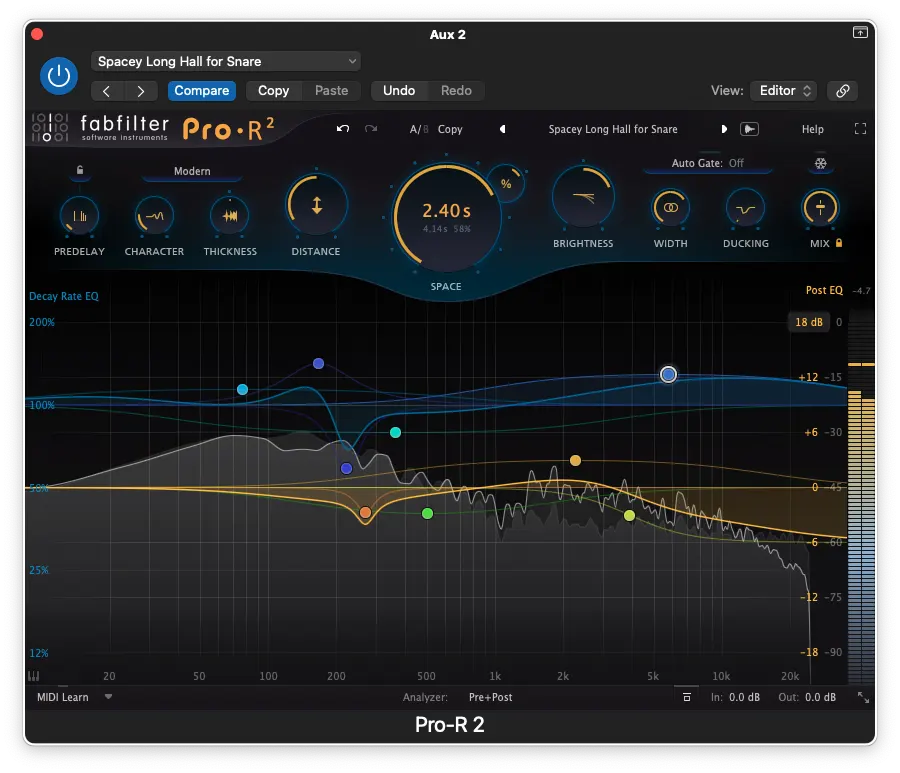 More Power, Less Clutter
What I've said about FabFilter products in the past holds true in Pro•R 2. They are masters at creating full-featured user interfaces that manage to provide you with the detail and control you need to get really granular with your production and sound design. This new version surprised me with the depth of sound control and new features that have been added, because the UI itself has been kept open, clear and concise. Dig deeper and there's more going on under the hood, including support for immersive 9.1.6 formats and special surround settings that allow you to fine tune how the reverb beaves within a room room, and even customize EQ curves on a per-monitor basis in the ATMOS version.
Conclusions
FabFilter has done a great job of improving on an already stellar product. There's so much to explore in Pro•R 2, from creating custom vintage emulations to designing entirely new, previously unimagined spaces. And to help you keep track of your new creations, the improved preset browser now includes metadata right in the dropdown menu, including descriptions and tags. I fully expect it to be the first reverb plugin I reach for in my next production and many to follow.
Latest Music Software Reviews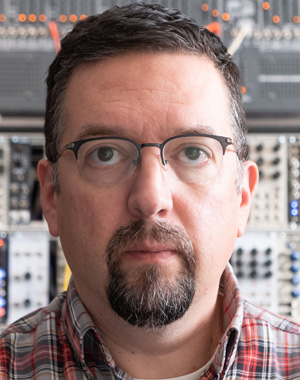 Steve Castellano
Steve Castellano is a musician and writer living in Toronto, Canada. He holds a music degree from York University, where his focus was electronic music and composition. He currently records and performs modular electronic music under the name Elettronica Sperimentale.