Steven Slate Drums 5.5 Review
April 25, 2022
by Steve Castellano
Product Intelligence Report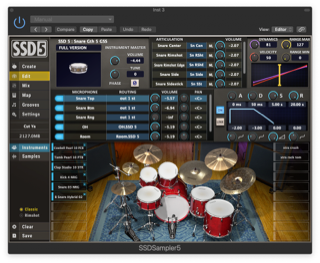 Considering the enormous variety of plugins and virtual instruments available to the modern music producer, the ability to make your music sound better is something we sometimes take for granted. For me, the products that really stand out are the ones that inspire a new approach to composition or production. Steven Slate Drums 5.5 has got me thinking about sampled drums in a new way, and may well inspire me to take my drum programming up a notch.
Steven Slate has been in the business of sampling drums for two decades, and the current iteration of their flagship drum sampler, Steven Slate Drums 5.5, is the closest thing I can imagine to having a real-life, actual drum kit mic'd up and ready to record – together with a top tier studio musician available to play it. Each instrument has been meticulously and exhaustively sampled, and the result is as satisfying to play as it is to listen to.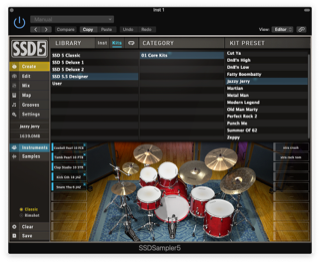 Welcome to the drum department
SSD5.5 starts with an impressive instrument list: 148 drum kit presets, 135 snares, 112 kick drums, 58 toms, and a variety of hi-hats, cymbals and percussion hits – over 400 instruments in total. Snares and kicks are mic'd top and bottom/front and back respectively for added control when mixing. Up to 24 velocity layers per instrument create a smooth and seamless velocity response. A generous amount of round-robin alternates keep everything sounding live and natural, so even single-stroke rolls don't fall prey to the "machine gun effect."
Also included are a unique assortment of additional hits and articulations including chokes for individual cymbals, MIDI CC-controllable hi-hat decay (ideal for electronic kit players) and shell-specific rim clicks. I never thought about how various toms would have their own unique rim click sound, but in retrospect of course they would. If you feel your next track needs a Steve Gadd-inspired "Late in the Evening" groove, you're ready to roll.
The kits in SSD5.5 are fully editable and can be reconfigured and reconstructed, or created from scratch from individual instruments as the mood strikes you. Sounds can be mapped across the entire MIDI note range in a variety of ways, including categorized menus, drag and drop, and MIDI learn. You can even add your own samples if the need arises, though velocity switching, round robin alts, and certain mapping features are not available for non-SSD samples.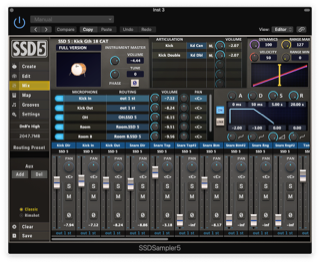 Choose a kit and refine your sound
The kits themselves offer a wide variety of sounds and styles to choose from. The SSD 5.5 Designer collection features 13 kits ranging from genre-specific DnB, metal and jazz to the room-filling Zeppy kit. SSD 5 kits from the 5.0 release are included as well, including a variety of rock, vintage, indie, jazz, country, funk and reggae kits, plus a handful of electronic kits to ensure all your bases are covered.
Each drum instrument is fully editable with individual volume, tuning, phase, dynamics and velocity controls, plus volume and pan for each individual mic, including top/bottom/front/back where applicable as well as overhead and room mics. Each mic also gets routed through an ADSR envelope for subtle transient tweaking or dramatic sound sculpting. You can then create the perfect balance for your creation using the built-in mixer, where you can further adjust the overall volume, pan and phase of the instrument as well as the overhead and room mics, and even control the amount of kick and tom bleed into the snare bottom mic with the SLR channel.
This is really a fantastic amount of control to have over your virtual kits, and it gives you an opportunity to create your own sound, whether you're creating your own kit from scratch, mixing and matching, or just making minor tweaks to one of the many factory supplied kits. SSD5.5 supports multi-channel output with up to 16 stereo and 16 mono outputs (though not all will DAWs support the full track count).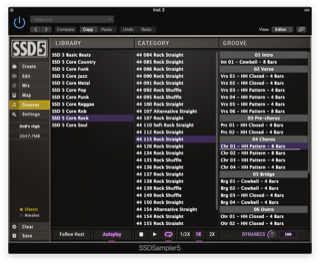 Finding your groove
The overall sound quality of the samples is superb. For my first test, I pulled the drums out of a multitrack funk recording and found a factory kit to suit the track (Jazzy Jerry from the SSD 5.5 Designer collection), made some small tweaks to the room mic balance in the mixer, and started playing along. Though the keyboard is my go-to input method as a rule, the responsiveness of the instrument inspired me to switch to a pad controller. The only downside was being limited to 16 pads at a time – and maybe my poor timing, though that's hardly Steven Slate's fault.
If you prefer a professional studio drummer's playing to your own, SSD 5.5 comes with over 2,400 MIDI grooves with a groove browser incorporated into the plugin making it easy to audition grooves before dragging and dropping them into your DAW. Pop and rock styles are particularly well represented, but the selection includes country, funk, jazz, metal, punk, RnB, and soul, with each song selection offering plenty of intros, fills, variations and outros to keep things sounding fresh. The grooves have a very live and dynamic feel, making them a great way to audition the various kits.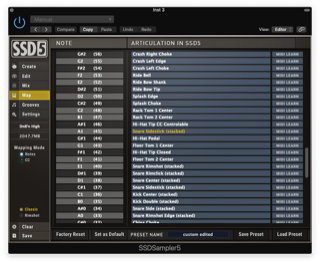 Not being a drummer myself, I can't speak to the experience of using SSD5.5 with an electronic kit, though I can say that after watching some demos online, I'd be hard-pressed to tell the difference between an SSD5.5 track created with one and a well-recorded acoustic kit. Just for fun, I thought I'd see if I could get Logic's Drummer to play SSD5.5 and it was pretty easy. I created a new Drummer track, then swapped out the Drum Kit Designer instrument for "SSDSampler5" in the instrument menu. I flipped into the Map page in SSD5.5 and had a look through the included presets, but didn't find one that matched. Creating a new map was pretty easy, however – I just started the track playing and swapped in the appropriate instruments as they lit up in the Note column. Once that's done, I can save that map to call up whenever I need it.
Conclusions
I'm thoroughly impressed with the quality and flexibility of SSD5.5. It sounds great out of the box and offers a host of easy-to-use features that allow you to craft your kits to your own particular needs. Having been satisfied with sample sets that offer half a dozen or so velocity layers, I now feel quite spoiled by the dynamic range of the Steven Slate kits. I also appreciate the detail in the SSD5.0 manual (a 5.5 manual was not ready at the time of review) on EQ and compression applied to the various drum collections – it's handy information to have when mixing, particularly if instruments or kits get swapped out during the process.
If you're looking for the most realistic, professional-sounding drums to add to your project, and you don't happen to have a professional drummer on hand (or if you're a drummer with an electronic kit), you should definitely give SSD5.5 a listen. A free version is available for download, with four kits to work with and no expiry date.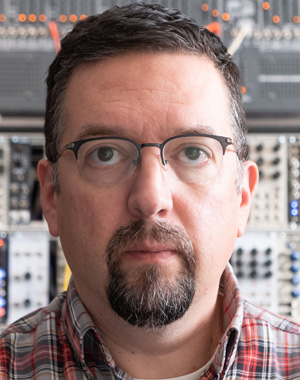 Steve Castellano
Steve Castellano is a musician and writer living in Toronto, Canada. He holds a music degree from York University, where his focus was electronic music and composition. He currently records and performs modular electronic music under the name Elettronica Sperimentale.